January
Phuket Red Cross Fair (aka New Year Fair)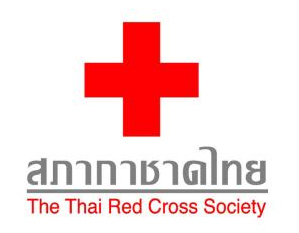 Location: Saphan Hin Park, Phuket Town
Every province has its own Red Cross Fair, starting around the end of the year and lasting seven to nine days. In Phuket it is typical big fair with lots of fun activities but the most sought-after items are the Red Cross's lottery tickets. The grand prize is spectacular and can be as much as a brand-new house with many pretty amazing 'smaller' prizes including a car, gold and motorbikes.
February
Chinese New Year on Phuket
Location: Her Majesty the queen's sixth cycle birthday Anniversary Park and Thalang Road, Krabi Road, Dibuk Road and Phang Nga Road.
Phuket's Chinese New Year Festival and the Old Phuket Festival held annually around mid-month of February.
The Tourism Authority of Thailand Phuket office (TAT) and Phuket City will combine the Chinese New Year celebrations with the annual Old Phuket Festival at the public park next to the TAT offices on Phuket Road with many colourful shows including a dragon dance and traditional dances. Four Old Phuket Town streets will be closed to motorized traffic for three evenings of pedestrian celebrations. The four main streets of the Old Town will have themes: Thalang Road will be about "stories of the past"; Krabi Rd will focus on "stories of the present"; Phang-Nga Rd will be about "stories of the future", and Dibuk Rd will have clothes and food made by the Thai Peranakan Association. You'll see Chinese houses with their living rooms decorated with vases of flowers, platters of oranges and tangerines and a tray with eight varieties of dried sweet fruit. The entrances of many shops and houses will be festooned with red banners and decorations to encourage luck and happiness during the coming year. It's a sensory circus, with performances of traditional dance, food, music, and art.
Wat Chalong Fair
Location: Wat Chalong on Chaofa West Road
Wat Chalong (or Chalong Temple) Fair is probably the biggest of all temple fairs on the island. It was first started in 1933 by local farmers who lived near and around Wat Chalong. After a long period of hard work and when the harvest was complete, they would get together and create a kind of fun fair on the temple's grounds. In later years, they set up the fair during the Chinese New Year because they wanted to make sure that Thais with Chinese heritage would join in, too. The fair lasts seven days each year and is a colourful, crowded, aromatic, noisy but fascinating spectacle. Claustrophobic people stay away.
March
Phuket International Marine Expo (PIMEX)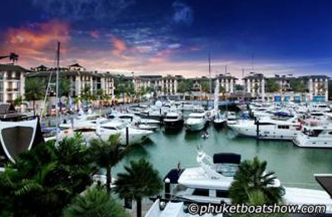 Location: Royal Phuket Marina, Kho Keaw
The Phuket International Boat Show (PIMEX) must be one of the most interesting marine showcases in Asia. Last year it displayed a collection of well-known yachts from prestigious shipyards around the world including Ferretti Yachts, Sunseeker, Princess Yachts and Fairline, with an estimated value of US$250 million over the event.
Thao Thepkasattri-Thao Sri Suntorn Festival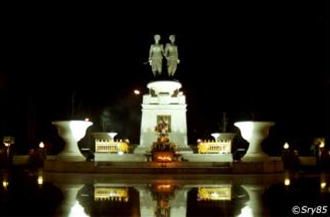 Location: Heroines Monuments, Wat Pranangsang and Talang Chana Kasuk Memorial Field, all in the Thalang area
This fair is held on March 13 every year to commemorate the two great heroines who rallied the Thalang people to repel Burmese invaders.
This festival has a strong historical connection to the island and lately has been promoted as one of the most important events in Phuket. The fair lasts many days and largely consists of sporting and cultural experiences. During the festival, there are a few things goings on at the same time at a few other locations in Thalang District in the north of the island such as at Wat Pranangsang and Talang Chana Kasuk Memorial Field. The main events take place in a big park east of the Heroines Monument. You can't miss this colourful setup, especially at night. To fully appreciate the event it's best to go accompanied by an interpreter.
April
Songkran Festival
Location: Nationwide
Thailand's most famous festival celebrates the Thai New Year. Prepare to join in the fun and get very wet or else stay indoors! Songkran is a loud, boisterous festival that features a lot of water throwing in the streets.
Phuket Bike Week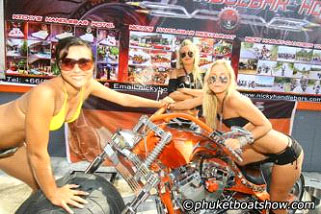 Location: Patong Beach
Now in its 19th year, the annual Phuket Bike Week is one of the biggest motorcycle events in Southeast Asia. Get to see an amazing collection of Harleys, Hondas and superbikes at this annual event. It features music, contests, parties and charity rides around the island. Fun for bikers and hangers-on alike.
Phuket Pride Festival (aka Phuket Gay Festival)
Location: Patong Beach
This six-night event usually starts off with a not-to-be-missed pre-party night, following by many more festivities. Expect to see the colourful and fantastic 'Afternoon Gay Pride Parade' and the fun street party. Phuket's first Gay Festival and Parade was staged in 1999 and was an instant crowd pleaser for both tourists and locals – gay and straight.
May
Seafood Festival
Held around May yearly, is designed to publicize the delicious seafood of Phuket and attract visitors during the rainy season.

Activities include a Marine Tourism Resources Parade, seafood stalls, demonstrations of regional cuisines and cultural shows. The activities hold on at Patong Beach.
Chao Le (Sea Gypsy) Boat Floating Festival
Falls during the middle of the sixth and eleventh lunar months yearly. The sea gypsy villages at Rawai and Sapam hold their ceremonies on the 13th; Ko Si-re celebrates on the 14th; and Laem La (east of the bridge on Phuket's northerntip) on the 15th. Ceremonies, which centre on the setting adrift of small boats similar to the Thai festival of Loi Krathong, are held at night and their purpose is to drive away evil and bring good luck.
August
Kathu Festival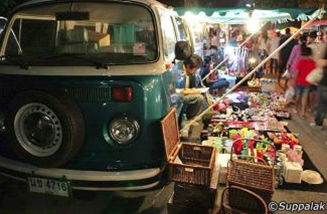 Location: Near Kathu Market
Kathu Festival, or the 'Kathu Street Culture Festival'as it is known in full, is a rather new event compared to other well-known festivals on the island but it's getting popular and draws a bigger and bigger crowd each year of its existence. Spectators will enjoy checking out the street stalls, stage shows, live music, exhibitions and Thai traditional children's games.
September
Por Tor Festival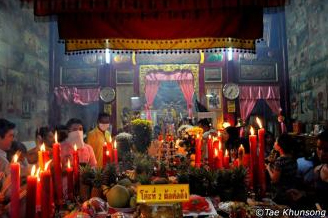 Location: All Chinese Shrines on the Island
This is an ancestor's festival of the ethnic Chinese that falls on the seventh Chinese lunar month, which is the same as the ninth lunar month of the Thais. Other offerings are made to 'feed the ghosts without relatives' that are said to have been released from hell for the month. Special foods, flowers and candles are presented to the ancestor's altars. Cakes in the shape of turtles are made from flour.
This is done because turtles live to great age and it is believed that by making such offering worshippers may extend the length of their lives. It is an important merit-making festival.
October
Phuket Vegetarian Festival
Location: Chinese Shrines on the Island
A colourful event held over a nine-day period in October, this celebrates the Chinese community's belief that abstinence from meat and various stimulants during the ninth lunar month of the Chinese calendar will help obtain good health and peace of mind.
Though the origins of the festival are unclear, it is thought that perhaps the festival was bought to Phuket by a wandering Chinese opera group who fell ill while performing on the island and who were miraculously healed through a strictly vegetarian diet. Then they act as yearly event.
Vegetarian food is eaten by participants and white clothes worn during the period of the fest. Self utilization is practiced by those whose bodies become the temporary residence of powerful gods.
Parades of worshippers brave fireworks while carrying images through the street; others walk on fire or climb bladed ladders. Participants number in the thousands. The whole forms one of the most bizarre festivals in Thailand.
November
Loy Kratong Festival
Location: Nationwide
A festival of quiet celebration, the origins of Loy Kratong are unclear, but it is believed that it started in Sukhothai, (north of Bangkok) one of the most powerful cities in Asia, around 800 years ago. On this particular night, on nearly every expanse of water, be it a river, lake or the ocean, you'll notice thousands of lights drifting across the water like fairy dreams.
Gently flickering, dipping and dancing in the breeze as they go, they make a spectacular sight. All of Phuket's major west coast beaches take part in Loy Kratong festivities, with a mix of locals and tourists. Nai Harn (on the large lake) and Patong usually have the most activity with locals visiting beaches like Kata and Karon.
Phuket Travel Fair or Patong Carnival
Held on November 1st, was first initiated in 1985 at Patong to welcome in the tourist season and designed to foster co-operation among tourism-related operators both in the private and public sectors. Many colorful and interesting activities are organized, such as merit-making in the morning; water sports contests, a Miss Visitor Contest, among others.
December
Phuket King's Cup Regatta
The Phuket Yacht Club hosts international yachtsmen, largely from neighboring countries who compete in the Nai Han Beach area for royal trophies.
Laguna Phuket Triathlon
Held in each December. The triathlon (a 1,000-metre swim, a 5-kilometre bike race and a 12-kilometre run) attracts world-class athletes from all over the world.