Phuket Local Food
They say 'we are what we eat' and again 'life is a journey'. Those great exotic dishes which you sample along the way, help to make the trip worthwhile.
If you want to talk about food, then you're in the right place as Phuket is a city famous for its food. Food cuisine is a combination of indigenous Thai, Chinese and Malay. Most of the so called local food is mainly Chinese Orientated. Some names may be familiar and some you may not have heard of before and although Phuket food is generally spicy but it flavor has a hint of Chinese due to the large Chinese community within Phuket.
Here are some of Phuket's Top local food for you to check out.
1) Kanohm Jin Phuket ( Rice Noodle ): Noodles often compared to spaghetti served with a spicy curry sauce, the original made from fish. It is usually eaten as breakfast. It comes with a range of fresh vegetables and boiled eggs. And often found with the fried pastry called Pah Tong Go and the curried fish mousse called Hor Mohk, both of them are very tasty. Look for a shop that has many curries to choose from if you are sensitive to spicy cuisine course there are some of the curries that not spicy too. They are taken with different type of gravies such as " Namya" ( Spicy fish sauce ) Gang Tai Pla ( Fish kindney Sauce ), Gang Pu ( crab Sauce ) Nam Prick ( Chili Sauce ) and Nam Choop ( Fresh shrimp chili paste ).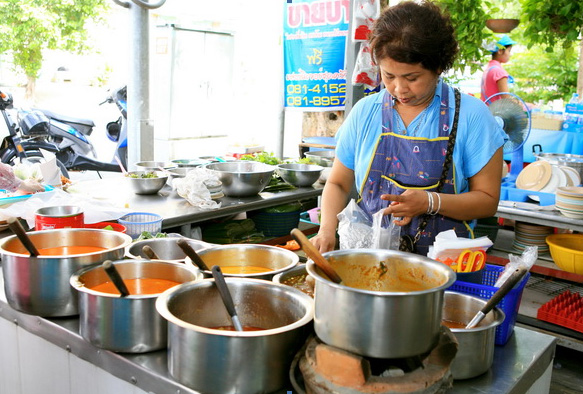 Where to eat:
Kwan Kanohm Jin on Tungka Rd.
Pah Mai on statun Rd.
Pha Ri on Pahtiphaht Rd.
Pah Ting on Satul road
2) Mee Sue: Phuket's breakfast noodles with salty taste and white color when uncooked, are boiled and flavoured with oriental spices. They can be served with sliced pork or chicken and accompanied by boiled rice or rice soup.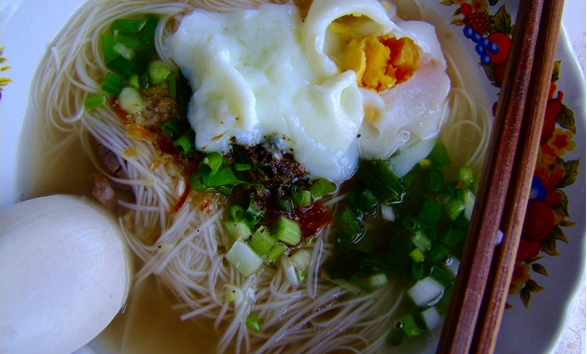 Where to eat:
Kuo Kwan Restaurant, (located on Phuket Road near Robinson's department store), is rightly famous for this simple but tasty dish.
3) Dim Sum: Phuket's Dim Sum, also known among the locals as 'Seaw Bouy' is another popular breakfast menu that goes well with coffee. Are a tantalising group of small dishes which can be eaten at any time of the day. The Dim Sum is a steamed dumpling, filled with every imaginable choice of sweet or savoury filling, and served with Chinese herb chicken soup and condiments.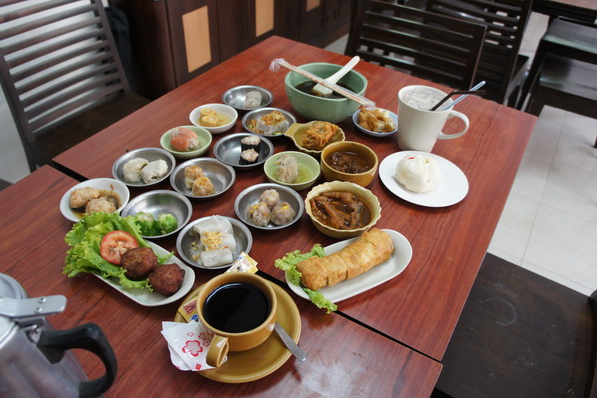 Where to eat:
Boonyarat at the main bus terminal 1
Boonyarat near Dao Rung School on Chao Fa Road
Boonyarat branches at the vegetable market
Sritang on Padipat Road
Chokchai Dim Sum on Mae Luan Road
Somjai on Dilok-U-Tit Road
4) Mee Hok Kian (Hokkian Noodles): There are many different varieties of Hokkien Mee. However, the most popular version here in Phuket is the Chinese version. Hokkien Mee are round yellow noodles, bigger than normal noodles. They are similar to Japanese type 'So Ba'. There are two choices of Hokkien noodles, with or without soup. But the most popular among locals are fried Hokkien noodles with sauce & meat ingredients like pork, fish, squid & mussels. The Fried noodles are the served in a bowl in which a medium boiled eggs prepared. It's served hot, with shallots and ground chili Put cooking oil, meat such as squid, pork, fish ball slices & soy sauce as the main ingredients. Then add sugar & vegetables. It depends on the heat & we have techniques to work with the pan. Strong of less fire of heat influences the taste. The more the dish is sired & moved. The more delicious it gets.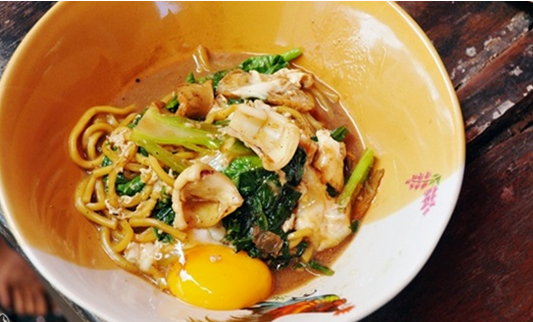 Where to eat:
Mee Ao Gay, located on Poonpol Road and
Mee Sapam at Sapam Village, Thepkasattri Road.
Mee Ton Poh , located in front of the Clock Tower roundabout on Phuket Road.
5) Mee Hoon Pa Chang: is another local dish popular in Phuket. It is vermicelli noodles Fried in soy sauce & Garnished with Fried onion Flakes & Fresh chopped Chinese chives. The dish is usually taken with pork soup. The recipe was originated by someone called 'pa Chang', so local people call the dish 'Mee Hoon Pa Chang'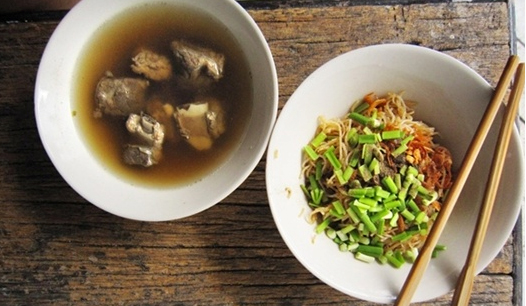 Where to eat:
On Thanon Yaowarat.
Near the Tessaban Ban Bang Niao School on Takua Tong Rd.
On Vichit Songkram Rd., near the entrance to Soi Lorong
6) Mee Phuket or Noodle with Soup: Yellow noodles cooked in both "dry" or "wet" versions, usually with shrimp and pork. Serve with prawn or pork soup.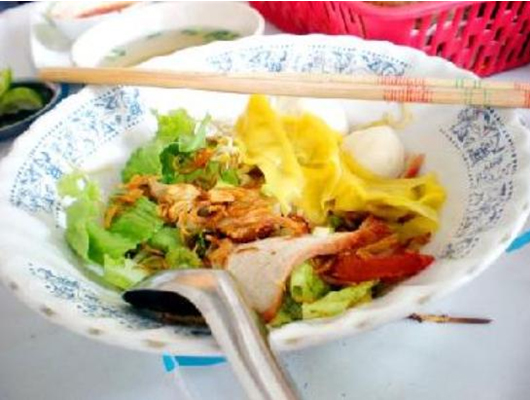 Where to eat:
Mee Somjit : in Phuket Town , near the clock-tower traffic circle on Phuket Rd.
Mee Jirayuwat - Pearl : in Phuket Town , near the Pearl Cinema on Phang-nga Rd.
Mee Jirayuwat - Kuku : at Rasadanusorn Rd. Baan Kuku
Mee Pae teaw : at Satoon Rd., near Plukpanya School
7) Lo Bah : Fried pork organise served with fried tofu and spicy sweet or sour sauce.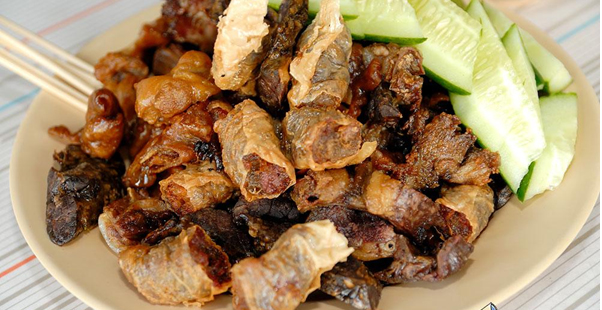 Where to eat:
Near Kiet Sin Stationery.
8) Oh Tao: is the local cuisine of Phuket and also known as Hoi Tod Hokgian. The O-Tao is a delicacy made of flour,egg and taro root, added with small oysters, bits of crispy pork rasher and spring onions. It is best taken with a sweet and spicy sauce that further enhances the flavor. Serve in a bowl and eat with pork cracking and bean sprout.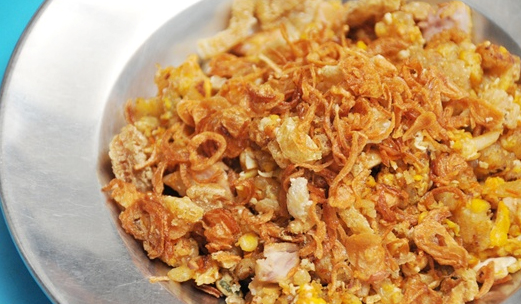 Where to eat:
Mee Sapam at Sapam village
Near the Tessaban Ban Bang Niao School on Takua Tong Rd
On Vichit Songkram Rd., near the entrance to Soi Lorong.
9) Oh Aew: Many of you have probably heard people talk about this before. Oh Aew is a popular dessert which originates from Phuket. Oh Aew is made from jelled banana-flour mixed with boiled red bean, ice and sweet red syrup.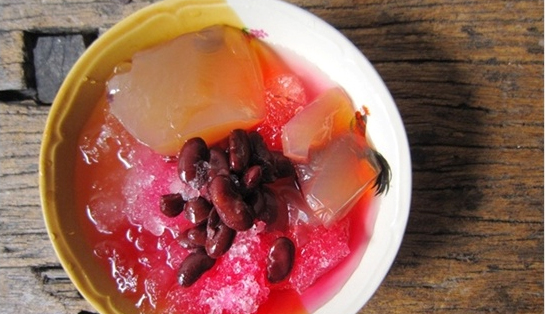 Where to eat:
On Soi Soon Utit, Yaowarat Rd.
On Ranong Rd., at the entrance to Soi Loh Rong
On Vichit Songkram Rd., near the entrance to Soi Loh Rong
10) Ah Pong: Also known locally as Bang Sun is a dessert that originates from Malaysia. This is called "candy preliminary" and in ancient times long ago. Ah Pong snacks are easy to make as the ingredients of flour, egg yolk, coconut milk, sugar; water and yeast are readily available. All these ingredients are mixed together and made into a pancake. Ah Pong's has a sweet aromatic taste and are usually found being sold from the many carts found around the island.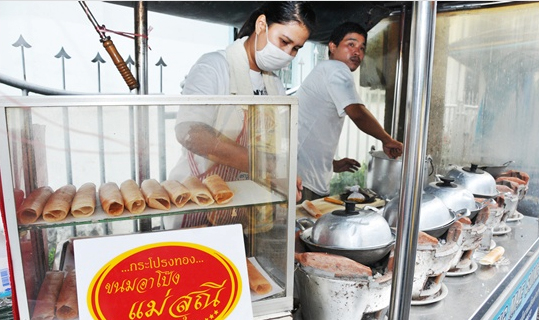 Where to eat:
At the intersection of Debuk Road and Yaowarat Road in Phuket town
11) Phuket Fresh Spring Roll or Poe Pia Sod: It was affected by Chinese Hokkien. The owner of a small Hokkien restaurant( where located at the intersection of Debuk Rd and Yaowarat Rd in Phuket town) shows us how to cook Poe Pia Sod. He puts small pieces of Chinese cabbage, a little of fried yam bean, a little of bean sprouts, and 3 slices of bar-b-q pork on fresh rice paper. Then pour dipping sauce into a serving dish.
Actually Poe Pia Sod is a simple dish that you can easily find anywhere in Thailand. But with his secret dipping sauce ingredients, Poe Pia Sod Phuket is one of "the must"you should try.
Where to eat:
At the intersection of Debuk Road and Yaowarat Road in Phuket town
At Cham Cha market on Ranong Road.